Initiatives with local communities
Initiatives with local communities
As a company that is needed by society, Yazaki is promoting activities together with local governments and local residents aiming to regenerate forests and realize a regional recycling-oriented society.
In Yusuhara town, Kochi prefecture and Nishiawakura village, Okayama prefecture, which have been certifies as advanced decabonization areas, we have been involved in the launch of a pellet factory and the construction of a district heat supply network for local production and local consumption of energy.
In addittion, in Hamamatsu city, Shizuoka prefecture, we are newly participating in the "Yume project Sakuma" for the utilzaition of local biomass resources.
Yusuhara town, Kochi prefecture
1st selection of advanced decarbonization areas
Introduction of Yusuhara town
Yusuhara town is located at the headwaters of the Shimanto river, and forests occupy 91% of the town are.
Since ancient times, they have sought to coexist with nature while enjoying the benefits of forests. This forest influences Yusuhara town's unique traditions and culture, and also supports the forestry industry, which is a key industry.
In addition, in the town, there is the "Ishin-no-michi/Dappan-no-michi" which Ryoma Sakamoto, who believed in the dawn of Japan and ran through the end of the Tokugawa Shogunate, traveled.
Efforts of Yusuhara town
Appropriate management of forest resources: Acquisition of FSC certification and promotion of use

The Yusuhara town forestry cooperatice established action guidelines 21 "Sanchu Hassaku" with the aim of transforming itself into a global forestry cooperative in the use of global environment and resource energy circulation.
At the same time, they became the first forest cooperative in Japan to obtain FSC certification.

FSC certified forest

Yusuhara town general government building using FSC materials

FSC (Forest stewardship council)

A third party organiaztion certifies that "environmentally friendly and appropriate forest management" is being carried out in accordance with the regulations of the forest stewardship council, an international organization.

Sanchu Hassaku

Following Ryoma Sakamoto's Senchu Hassaku strategies, the Yusuhara town forestry cooperative put together eight ideas for reforestration.

Human resource development for the future: Multi-purpose use of forests

The town-owned reforestration land that we have jointly developed has been certified as a forest therapy road. This therapy road is named "OAAD Road" and is used for "Forest kindergarten"

"Forest kindergarten" to nurture sensibility in nature(2010)

Therpy road certification:OAAO road(2012)

OAAO

Abbreviation for One for all, all for one
Recyling of forest resources: Woody biomass regioonal recycling project
In 2005, the government, local residents, and companies worked together to launch a woody biomass regional recycling business, and in 2008, Yusuhara pellet Co., Ltd's pellet factory began operations.
Aiming for the cyclical use of forest resources, in order to revitalize the forestry industry in Yusuhara town and maintain the forest, we are making pellets from thined wood and mill ends and using them as fuel.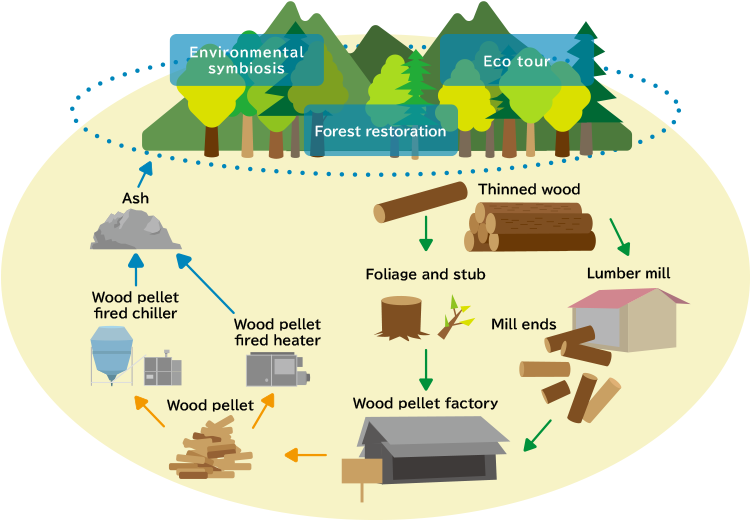 Yusuhara pellet Co. Ltd. Pellet factory

Wood pellet fired absorption chiller installed ate Yusuhara high school

Wood pellet fired heater installed at at farmhouse in Yusuhara town
Shareholder composition of Yusuhara Pellet Co., Ltd.
Yusuhara town: 51%, Yazaki Energy System:35%, Forestry cooperative:10%
Town forestry cooperative, JA, Chamber of commerce, etc.: 4%
Wood pellet fired absorption chiller
The world's first absorption chiller that uses wood pellet as a direct energy source.
Nishiawakura village, Okayama prefecture
1st selection of advanced decarbonization areas
Introduction of Nishiawakura village
Nishiawakura village is located in the northernmost part of Okayama prefecture, and about 95% of the area of the town is covered with forests.
There are facilities such as hot bath facilities, a ski resort, and a campground, and it is a popular village as a tourist spot.
In addition, Nishiawakura village has been working on its own economic circulation model and the construction of a low carbon society long before 2015, when the SDG's were adopted at the United Nations summit.
These activities are also model for other local governments' activities to realize the SDG's.
Efforts in Nishiawakura village
| | |
| --- | --- |
| 2008 | Nishiawakura village 100 year forest plan announced |
| 2013 | Environmental model city certification |
| 2014 | Reginal biomass industrialization promotion business certification |
| 2019 | SDGs future certification |
| 2022 | Selection of advanced decarbonization areas |
Nishiawakura village has been selected as an "Environmental Model city"

An "environmental model city" is a concrete and easy-to-understand way to show the shape of a society aiming for a low-carbon society. The government selects cities that set lofty goals and take on the challenge of pioneering initiatives, and supports their realization.
Nishiawakura village was selected on April 2, 2013. We are promoting the construction of a low carbon society not only through the 100 year forest business, but also through the introduction of renewable energy. We aim to create a low carbon model area in the hilly and mountainous areas of Japan through the creation of "high quality rural areas that share the limited blessing of nature with important people" such as small hydroelectric power generation, biomass, and solar power generation.

Nishiawakura village has been selected as a "Biomass industry city"

On March 20, 2014, it was designated as a "Biomass industry city" jointly promoted by seven related ministries(cabinet office, Ministry of Internal and Technology, Ministry of Agriculture, Forestry and Fisheries, Ministry of Economy, Trade and industry, Ministry of Land, Infrastructure, Transport and Tourism, and Ministry of the Environment), Nichiawakura village was selected. A "biomass industry city" is an area that aims to create an environment friendly, disaster -redistant city ccentered on the biomass industry that makes the most of the local characeristics.
Yazaki's involvement in Nishiawakura village
Yazaki has been involved in building a sustainable, self-sufficient society in Nishiawakura village since 2016. We are working on the construction of Nishiawakura village in collaboration with the public and private sectors, such as designing and managing the construction of heat supply networks using wood produced in Nishiawakura village, and diagnosing the reduction of CO₂ emissions in buildings.
Design management of district heatin networks
In Nishiawakura village, a wood chip boiler that uses local wood as a heat source is used to supply hot water to public facilities in the area. Yazaki is involved in the selection of wood chip boilers used for heat supply and the design and supervision of heat supply networks.
District heating image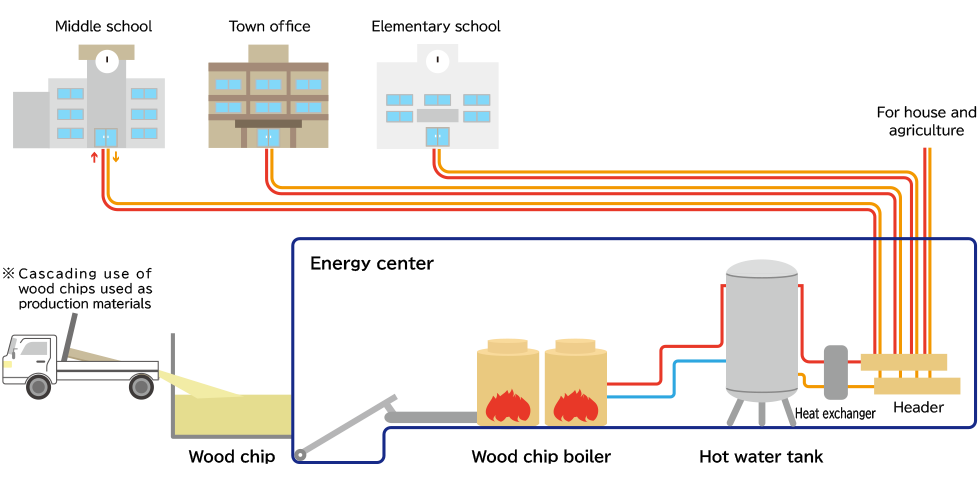 District heating facility
Nishiawakura junioir high school

Children's hall

Nishiawakura elementary school

Lively Funeral center

Yu Yu house Hidamari
Proposals for reducing CO₂ emissions from public facilities
Nishiawakura village is actively working to reduce CO₂ emissions at public facilities in the area.
Yazaki conducts a survey of the current CO₂ emission at each facility and proposes specific measures to reduce CO₂ emissions.
Examples of implementation of CO₂ emissions diagnosis
Roadside station rest center
Awaku-land

Buffet restaurant
Awakura Shun no Sato

Yutopia
Ogonsen

National lodge
Awakuraso
Hamamatsu city, Shizuoka prefecture
Introduction of Hamamatsu city
Hamamatsu city is located roughly halfway between the Tokyo metropolitan area and the Kansai area. It has an urban area where urban functions and advanced technology industries are concentrated, a plain area where suburban agriculture is thriving, a coastal area blessed with abundant marine resources, and a vast area. There is a hilly and mountainous area with forest resources, and it is truly a country scal city.
Local industries are thriving, rooted in the cotton fabric and lumber industries that have continued since the Edo period. Accumulation of advaned technologies such as those related to optical and electronic technology is progressing.
Hamamatsu city and Yazaki
Yazaki has two production bases in Hamamatsu city, the Tenryu plan, which manufacturers gas equipment, and the Hamamatsu plan, which manufactures air conditioning equipment and solar thermal equipment, and has developed together with Hamamatsu city. At the Tenryu ward office, Yazaki's wood pellet fired absorption chiller is being used to reduce CO₂ emissions.
Tenryu factory

Hamamatsu factory
Particcipatin in "Dream project Sakuma"
In Hamamatsu city, a consultative body centered on the city and local companies is considering the use of local biomass, such as forest resources in the Sakuma area and driftwood collected at the Sakuma Dam, for powerr generation and heat utilizatiom.
Yazaki is involved in the planning of biomass heat utilization in this project based o nthe experience cultivated in Yusuhara Town and Nishiawakura village.